This classic camper van design is simple but effective, great to wear with jeans or shorts, and just right for the forthcoming summer music festival season.
2. Ralph Lauren (£75 House of Fraser)
Timeless, simple and stylish, this polo shirt by Ralph Lauren looks good anywhere and goes great with stone coloured Chino's.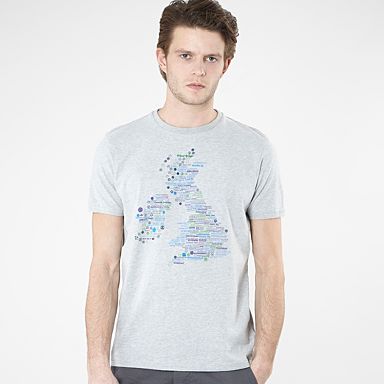 3. St. George by Duffer
(£20 Debenhams)
Get ready for the European championships this summer with this inventive design where the map of Great Britain and Ireland is made up entirely of British football club names!
4. Joe Browns (£10.95 Play.com)
Fun and retro in style, this tee will look great worn at the beach or at a barbecue, maybe team it up with a light coloured, plain overshirt and blue jeans.
5. Burton's (£16)
"One's company, two's a crowd, and three's a party!" says this t-shirt from burton's menswear, sure to get you noticed at parties, match it with black jeans!